Living and eating healthy can still be fun and delicious. When your Mexican food cravings hit, try this Mexi Egg Scramble for any meal or snack.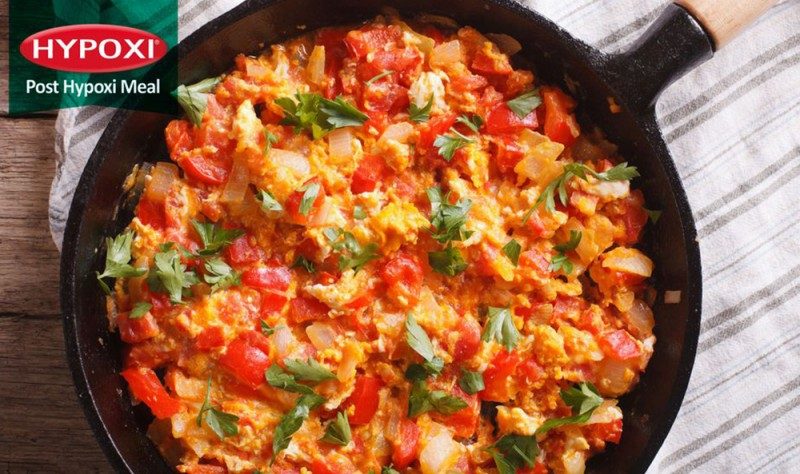 HYPOXI Friendly and quick to make!
SERVINGS: 1
PREP: 2 min.
COOK: 10 min.
INGREDIENTS
2 eggs
2 tbs Greek yogurt
1 tsp smoked paprika
pinch of Mexican chilli powder
pinch of Mexican spice (optional)
salt & pepper to tatse
2 tsp olive oil
1/4 red onion, finely chopped (optional)
1 medium tomato, roughly chopped
1 red pepper, roughly chopped (green, orange, yellow bell peppers or a mix can be used)
1 tbs fresh parsley, chopped (or cilantro or chives)
DIRECTIONS
In a small bowl, beat together the eggs, yogurt, spices, salt and pepper.
Heat frying pan over medium heat, add oil and saute onion for a few minutes, add tomato, red bell pepper and cook for a few more minutes.
Pour in eggs and continue to cook, pushing mixture in from the edge, until cooked through.
Remove from heat and serve sprinkled with fresh parsley or cilantro or chives.
NUTRITION INFORMATION
Calories: 310
Protein: 16.9 grams
Carbs: 8.9 grams
Fat: 23.1 grams